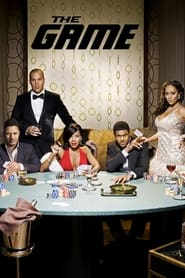 The Game Season 4 Episode 1
Derwin and Melanie are now two years married with Melanie being a housewife and a step-mom to Derwin's son. If you remember, she spent the previous few seasons studying to become a doctor. Of course, she has some suspicion that Derwin's son isn't really his so she decides to get a DNA test behind his back.
Tasha Mack dating a much younger guy named Donte. She tries to keep her true feelings for him low but ends up breaking out emotionally when she discovers his ex-girlfriend was Sheree from the show "Real Housewives of Atlanta."
Meanwhile, we see Malik's success getting to his head. He is currently sleeping with the majority owner of his team's girlfriend (played by the hot Meagan Good) and he is pushing his best friend to the limits. He eventually gets caught by his friend Terrence who walks in on Malik in a Jacuzzi with the owner's girlfriend and Terrence's girlfriend.
Lastly, the ongoing battle between Jason and Kelly continue. They just got out of their divorce and they spend the entire episode trying to get each other even more upset.
Episode Title: Parachutes...Beach Chairs Pt. 1 & 2
Air Date: 2011-01-11