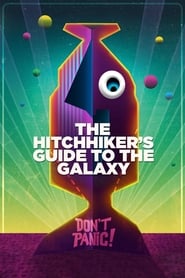 The Hitchhiker's Guide to the Galaxy
An Earth man and his alien friend escape Earth's destruction and go on a truly strange adventure as space hitchhikers.
When the Earth is destroyed a Vogon Demolition Fleet to make way for a new hyperspace bypass, Arthur Dent joins his friend Ford Prefect (who turns out to be a researcher for an electronic reference guide called the Hitchhiker's Guide to the Galaxy) for a galactic voyage on which they meet Zaphod Beeblebrox, a two-headed ex-President of the Galaxy, and his human companion, Trillian. Their journey takes them from the remains of Earth to Milliways, the Restaurant at the End of the Universe. Based on a radio play by Douglas Adams.
Don't Panic! The story of Arthur Dent, an average Englishman who life was spared by his friend, who turned out to be an alien, while the planet Earth is destroyed. His friend tells him about the Hitchhiker's Guide to the Galaxy, a guide with anything you ever needed, and wanted to know. They travel across the galaxy, meeting friendly, and not so friendly characters in order to find the great question (the answer being 42).
Views: 1212
Genre: Adventure, Comedy, Sci-Fi
Director: Douglas Adams
Actors: David Dixon, David Learner, David Tate, Douglas Adams, Mark Wing-Davey, Martin Benson, Peter Jones, Rayner Bourton, Richard Vernon, Sandra Dickinson, Simon Jones, Stephen Moore